Everything you need to plan or settle an estate is right here.
Free downloads:
Estate planning and settlement checklists
By submitting the form you will be indicating your consent to
receive marketing communications by email. You may unsubscribe at any time.
Planning or settling an estate means lawyers, accountants, repetitive paperwork, a lot of time and a lot of money.
As estate specialists, we know how hard it can be to plan or settle an estate. We want to help, so we've created free checklists to guide estate planners and estate executors to the most efficient path for managing their estate or the estate of a loved one.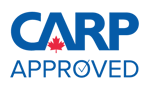 About our estate settlement services
From easy-to-use online tools to our team of dedicated estate professionals and executor coaches, ClearEstate's settlement process is simple, transparent, and offers peace of mind to executors and beneficiaries alike.
An estate can usually take hundreds of hours worth of work to settle. With ClearEstate, you can save over 120 hours of administrative work and $8,500 in fees on average.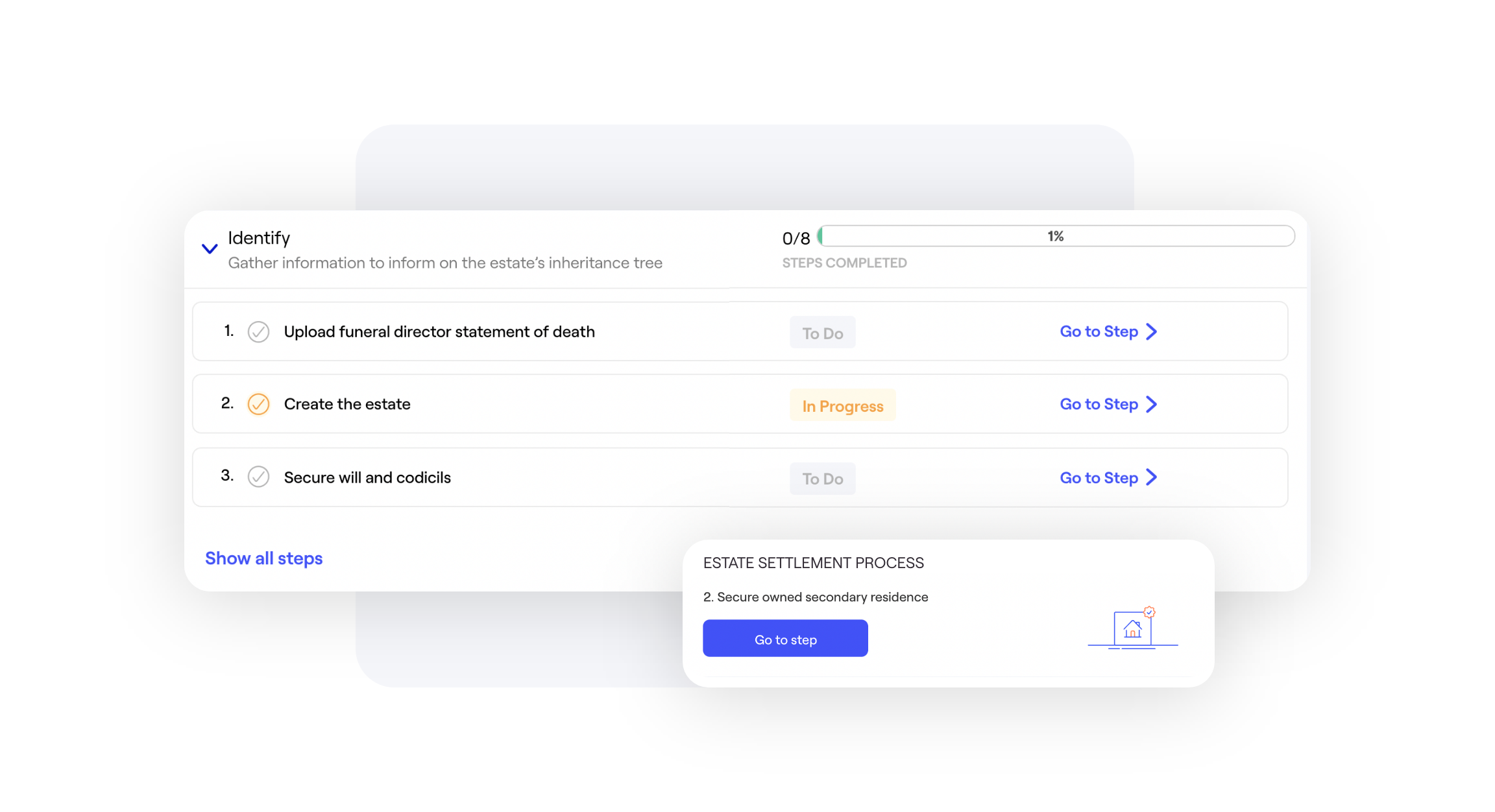 Your guide through the entire settlement process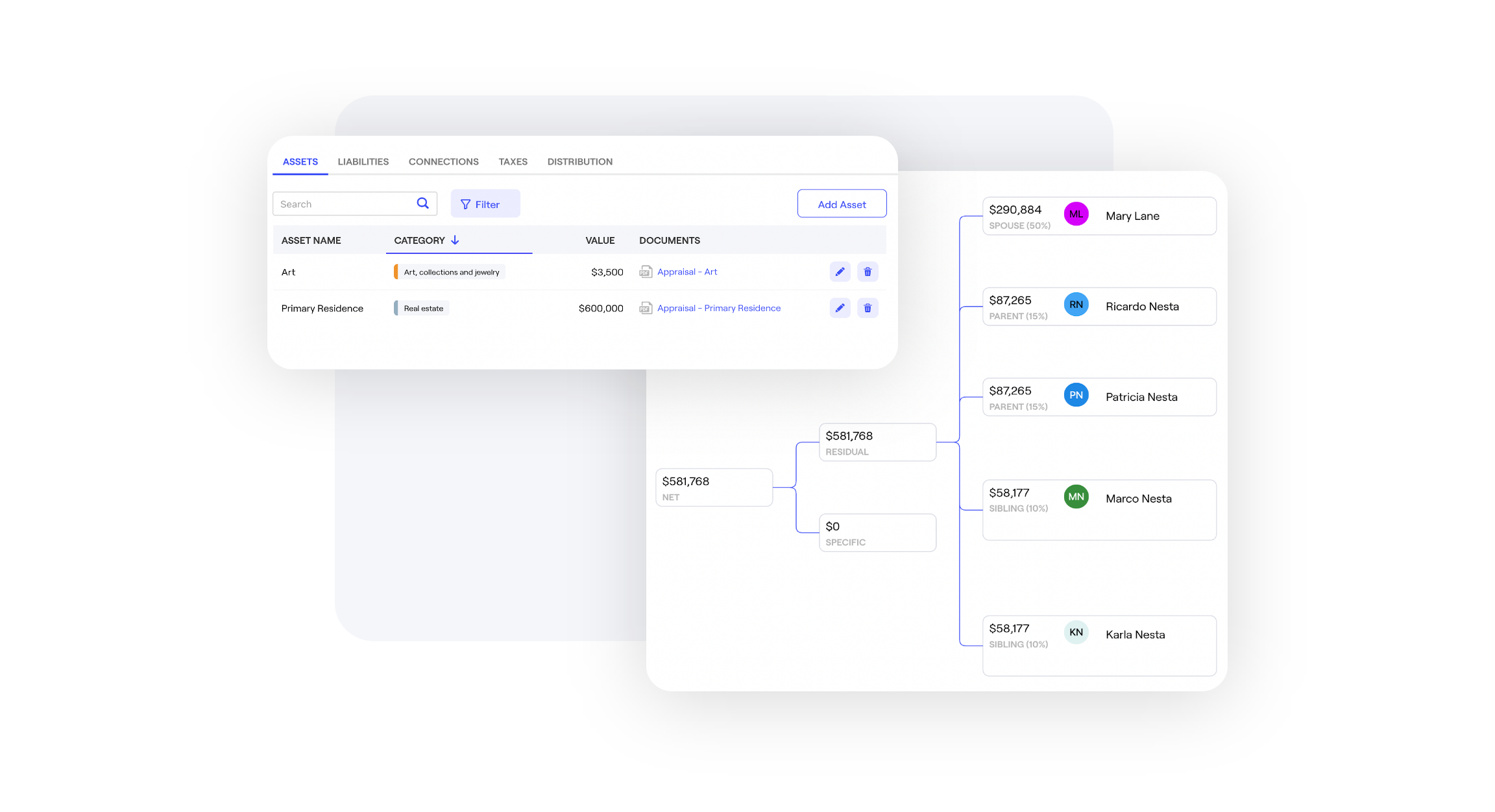 Estate Accounting Dashboard
Inventory builder and visual distribution tree of the estate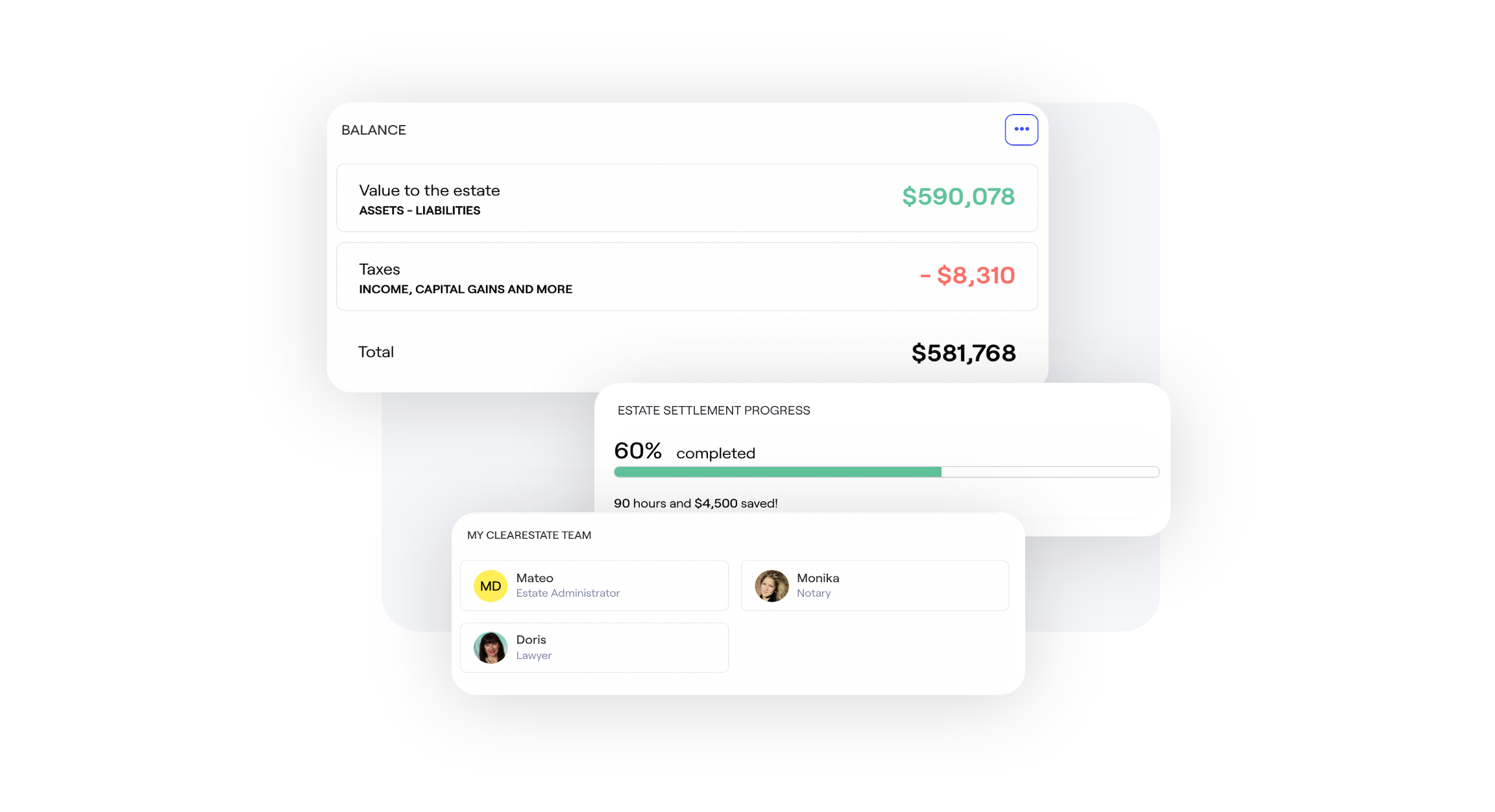 Estate Overview Dashboard
Everything you need to know about the estate in one single view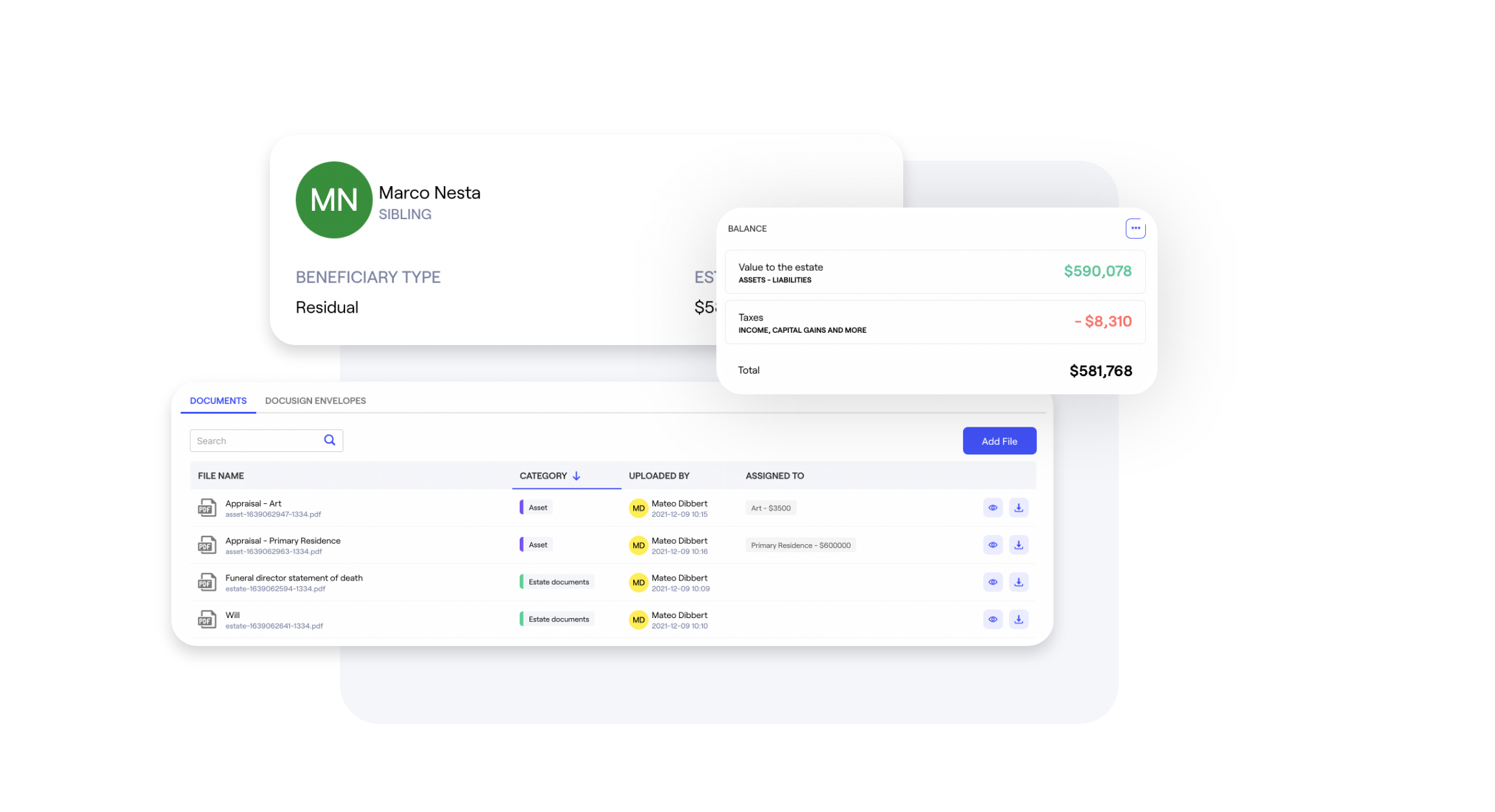 For full transparency and improved communication
About our estate planning services
We've harnessed technology to help estate planners efficiently organize and securely store information tied to their estate, so that when the time comes, the settlement process will be faster, less expensive, and so much easier on the executor.
A well planned estate can cut the average time of distribution to beneficiaries by six months and save thousands of dollars in fees.

Will document prepared and stored in ClearEstate registry once executed

Power of Attorneys for Property and Personal Care prepared and stored in registry once executed.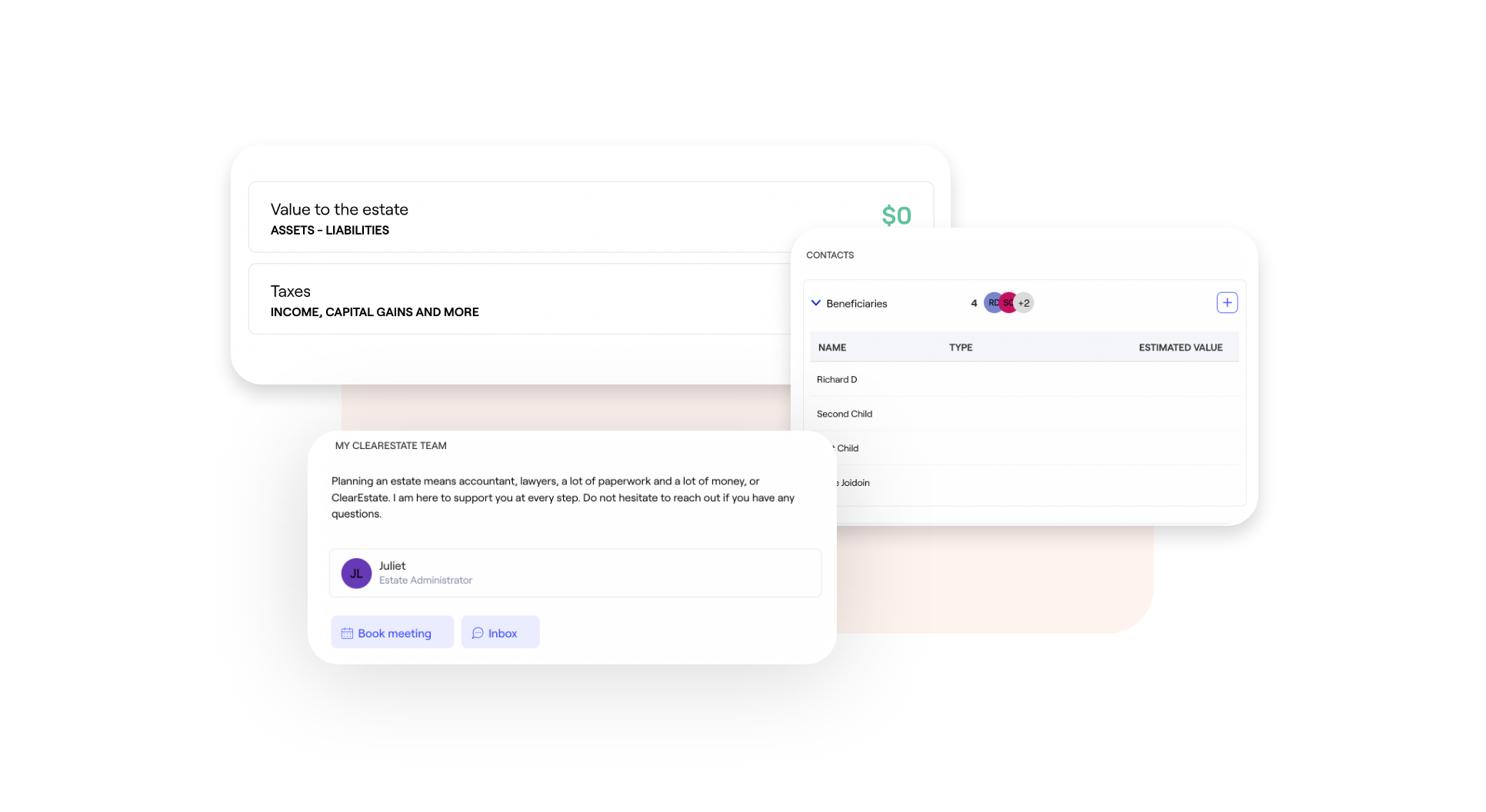 Estate Planning Online Tool
Shows all information tied to the planning of the Estate, the eventual distribution plan and even a family tree, all displayed in an easy to use dashboard.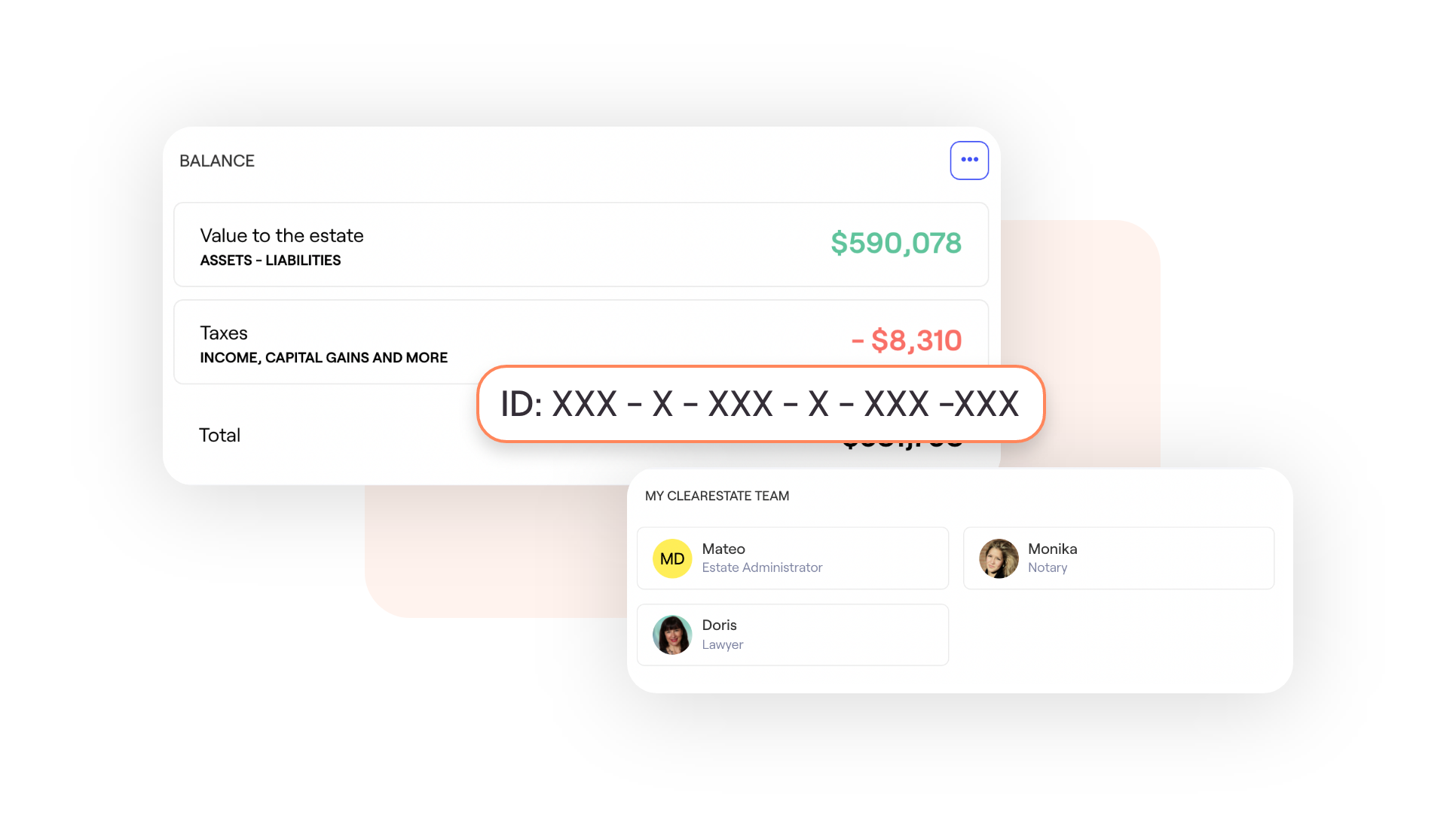 Allows executors to access their loved one's estate plan in minutes, saving them days of digging for information.

We're a powerful and easy online resource
with real, helpful people behind it. We've harnessed technology to save estate planners and estate executors time and money.

Our process is completely transparent for estate planners and beneficiaries alike.


Our services cost 1/3 of the price of other professionals, saving you thousands of dollars. Our flat fee rate means no surprises.
Our estate specialists are available to help you understand what's involved in planning or settling an estate, and how to get started.